When the Mic Went Silent: Turning Obstacles into Opportunities
Have you ever prepared impeccably for a big moment, and then something out of your control goes horribly wrong?
Just a few weeks ago, I had the honor of being a Mega Session speaker at the 2023 CREW Network (women in construction) Convention in Atlanta, Georgia. The room of 500 was packed, super engaged audience. Amazing!
But what happened next was nothing short of terrifying AND magical. The audio, crucial for the interactive finale of my talk, failed. The A/V team came up, but could not fix it.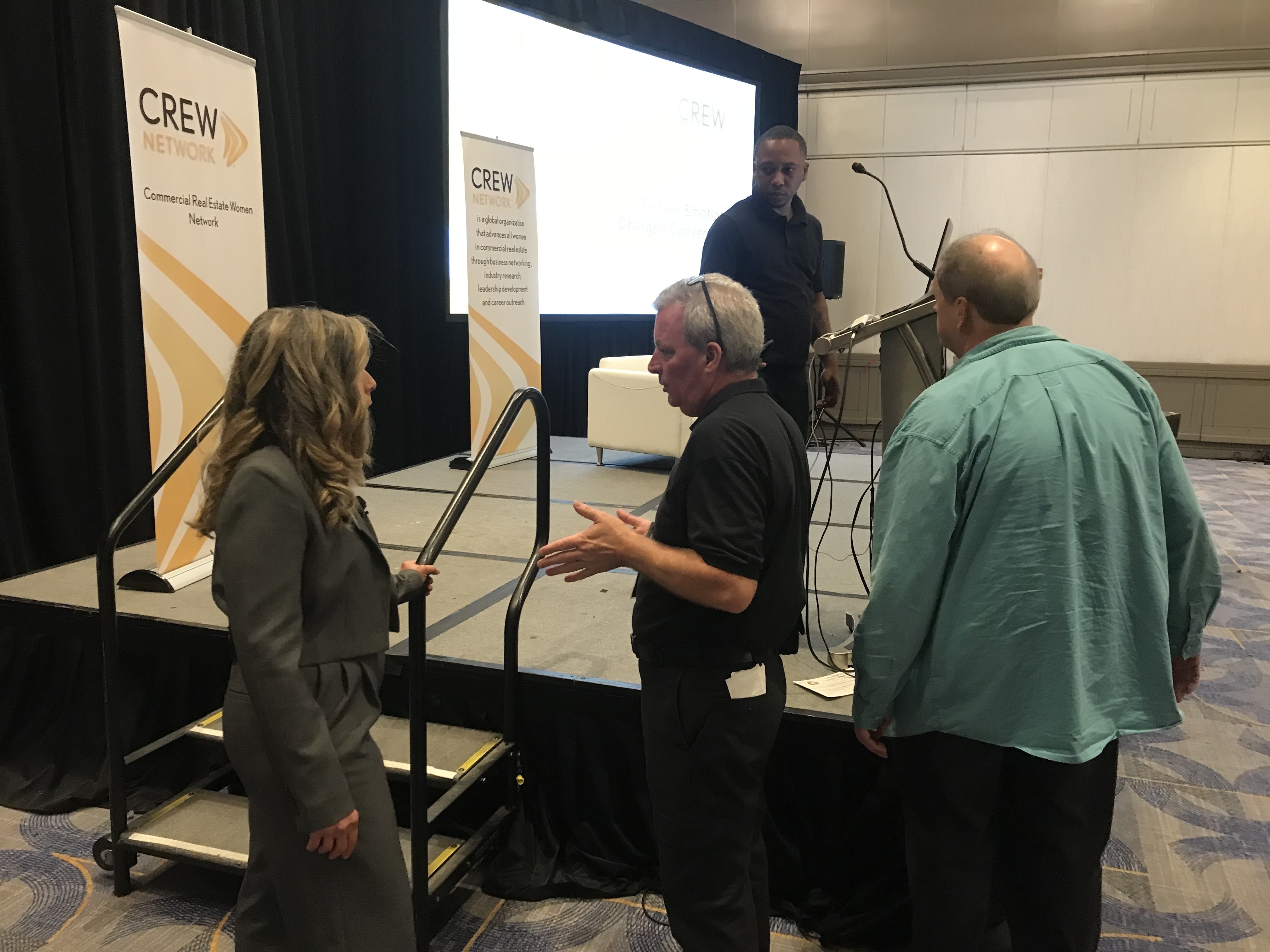 Should I start singing Alicia Keys, 'This Girl is On Fire'. Bad idea, considering my vocal ability. I decided to do the finale, an interactive visualization activity, without music. Not ideal, but the show must go on.
Then, an attendee in the session came to the stage and handed me her phone, and said, 'HOLD THIS TO YOUR MIC!'. She had pulled up 'This Girl is On Fire' on Spotify.
Everyone clapped and stood up as I led them through the visualization finale with a phone held to my lavalier!
Honestly, this speaking event could not have turned out better. It was impactful, entertaining, and exemplified the topic that I covered 'How to Defuse Emotionally Charged Situations and Remain Highly Influential'.
I am forever grateful for the opportunity to partner with the CREW Network for their national conference, and of course to the quick thinking woman in the front row who handed me her phone!
Whether a speaking event, a meeting, interview, or any other unexpected turn of events, there will be obstacles. If you can be open to the unexpected and stay emotionally agile, the outcome may be even better than you expected.
Here are a few strategies that may help you do just that:
Embrace the Unexpected
We've all been there, right? The moment when something goes awry, and we're tempted to throw in the towel. But let's take a step back and think about the courage and resilience we've tapped into throughout our lives. The unexpected can be a gift, a chance to create something even more memorable. In my case, the absence of audio turned into an unforgettable, room-energizing experience.
Leverage the Power of Community
When the woman in the front row pulled up the missing Alicia Keys song on her phone and suggested I hold it to the mic on my shirt, I thought, "Why not!" and went for it. The room erupted with energy, transforming a potential hiccup into a highlight. It's a testament to the collective strength we often overlook. Your team, your community, they're not just spectators; they're potential problem-solvers and contributors.
Stay Committed to Your Vision
It would have been easy to apologize and end the session, but I knew the value of that final segment. I had a vision, and I was committed to seeing it through. When you're clear about what you want to achieve, minor setbacks won't derail you. They become mere bumps on the road to your destination.
Adapt and Overcome: Mental toughness is about resilience and ingenuity, qualities every leader needs. It's not about being perfect, it's about how you adapt to adversity. Rather than worry about something going wrong, use that energy to practice and prepare. When you've done your best preparation, learn to lean into any imperfections that may arise and commit to crossing the finish line with your best performance.
So, the next time you find yourself in a less-than-ideal situation, remember these lessons. You're more resilient and resourceful than you give yourself credit for. And if you ever doubt it, just think back to this story. Take control of your narrative and tap into the best version of you.
If you have any questions or if I can help you or your team in any way, please reach out directly to [email protected].
Cheering you on always,
Sheryl