Are You Speaking Up For Yourself Enough?
My daughter Megan recently graduated from the University of San Diego. Being the youngest in the family with two brothers who were Division 1 athletes, and who made it through college seemingly easily and now successfully into the 'real world', there have been some big shoes to fill (at least in her mind:).
I've told her over the years that her traits of resilience, determination, hard work, and love for others cannot easily be taught, and those are the traits of some of the most successful people in the world.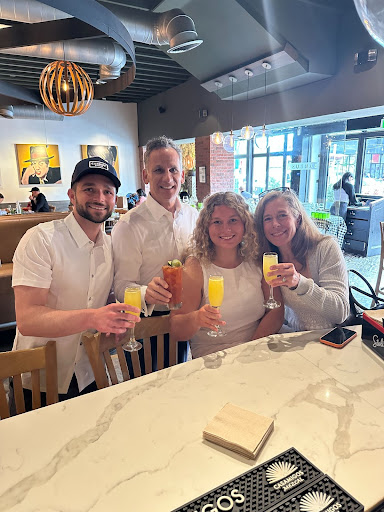 I shared with her that greatness is often born from struggle. It's as if G-d, the universe, or whatever higher power you believe in, wants to give us a big shove, see us fall on our face (maybe a few times), and see how we handle getting up, dusting off, and moving forward to see if we can handle what's in store for us.
If we learn, grow, and persevere, that seems to be when the magic happens. The next step toward what we are truly capable of.
Now that Megan is heading into the workforce, I thought I'd share what I shared with her in terms of speaking up for what you need, for what you want, and when you have something important to say.
In a world where assertiveness in women, especially women who are further marginalized within our gender, is often misconstrued as aggression, speaking up for ourselves can be a daunting task.
In order for us to have your greatest impact, it's important to understand the power of expressing our thoughts, needs, and boundaries as well as making big (and small) asks.
In other words, think of the one thing you want to do or become and act AS IF it's already happened. Then, work backwards from there.
It doesn't have to be your all-encompassing purpose in life. It can be your purposeful next step.
What's something slightly (or very) audacious that you know in your gut and in your heart that you want to do or say?
Similar to what Megan and other graduates might be feeling in their new chapter, we all experience the uncomfortableness of uncertainty, contemplating what's next. The good news is there is a process to make progress.
To drive this point home, I'm going to share a (vulnerable:) story of my path to stepping beyond my executive coaching practice to get on this magazine cover.
Back in 2017, I decided (remember the meaning of de-cide? 'Death of' any other option) that an important stepping stone in my speaking career would be to speak on the main stage at Microsoft's Women in Cloud conference.
I submitted an application to speak.
It got rejected.
My next question?
'Do you need a volunteer?'
I finally got a 'yes'!
I showed up with a smile and offered to do whatever the program director needed. I was essentially checking in the speakers and making sure they were taken care of. I was also meeting the 10 people on my 'Do not leave this conference until you have a meaningful conversation' list
In 2018, I asked again and got my next 'yes'.
I ended up moderating a panel at Women in Cloud on the main stage and met, amongst other amazing leaders, George Sifakis, CEO of Ideagen. Ideagen Global, in partnership with Microsoft and others, is working toward 'solving the world's most vexing problems', namely helping to achieve the United Nations 17 Sustainable Development Goals.
There have been many many small speaking events, lunch and learns, rejected speaking applications, and also many applications that have been accepted such as opening the Women of Silicon Valley Conference, speaking at Women of the Channel recently, and being asked to do the keynote for the CREW National Conference in September.
I'd be lying if I said there was a voice in my head that said 'Who the heck do you think you are?'. You are not the leader of a company or the leader of a nation. What is so important that you have to say, and why would you ever be allowed on the stage at the United Nations or any of these other amazing events?'.
After working with world-class athletes, Olympians, and some of the most prolific female leaders on the planet, I had helped the best get better quicker and taught them how to perform their best under pressure.
It was now time to step outside of MY comfort zone and become an expert in something new and get comfortable with BIG asks.
I asked George if I could speak at the Ideagen Global Acceleration Summit which was broadcast on May 31, 2023. There is always a speaker from each event on the cover of Ideagen's Catalyze magazine. For May, I asked if I could be me.
If all goes well at the Global Acceleration Summit, it's my sincere hope that I'll be asked to speak at Ideagen's Global Goals Summit this Fall at the United Nations on behalf of Sustainable Development Goal #5, Equality.
That was a goal I set in 2017 as a way of helping more women and girls to have their voices heard, valued, and respected.
If I don't get asked, I'll do one of two things. I'll first ask. If the answer is no, I'll find out how I can improve, so I can have a better shot next year.
Why?
Because YOU along with the Limitless Leader community are starting a movement for women to have more leadership roles and to have a bigger voice in those roles.
Because women's voices matter, including those who are marginalized within and outside our gender. I believe that it's time for feminine leadership to rise for the sustainability of our companies and for our planet. Not to push anyone out, but to have an equal voice and to lead the way with confidence, profitability, and with love.
So, is there something in your gut or in your heart that needs to express more or with more influence? Do you need help or buy-in from someone in power? Are you speaking up enough?
Let's take a step together. Think about one person who you'd like to ask for help or ask for buy-in. Who is it?
Here are a couple of questions to ask yourself that may be helpful prior to having that conversation:
What's my desired outcome or how do I want it to turn out?

What's important to the other person and what obstacles he/she may be up against?

What's my best first step?
If I can help YOU personally or your team in any way to gain clarity on your roadmap, have greater confidence, or learn how to have greater strategic influence, let's have a walking call or a Zoom meeting.
Currently, I'm also offering a small handful of private VIP strategy days where we can roll our sleeves up, put a plan together, and chart a path to your next level of impact, together. Did I mention you'll have fun, too? Stay tuned for upcoming dates, or you can schedule a time here to see if it's a good fit for you!
Cheering you on always,
Sheryl